I learned to shoot on film. That was a LONG time ago… but I fell in love with black and white film on my husband's Canon Rebel.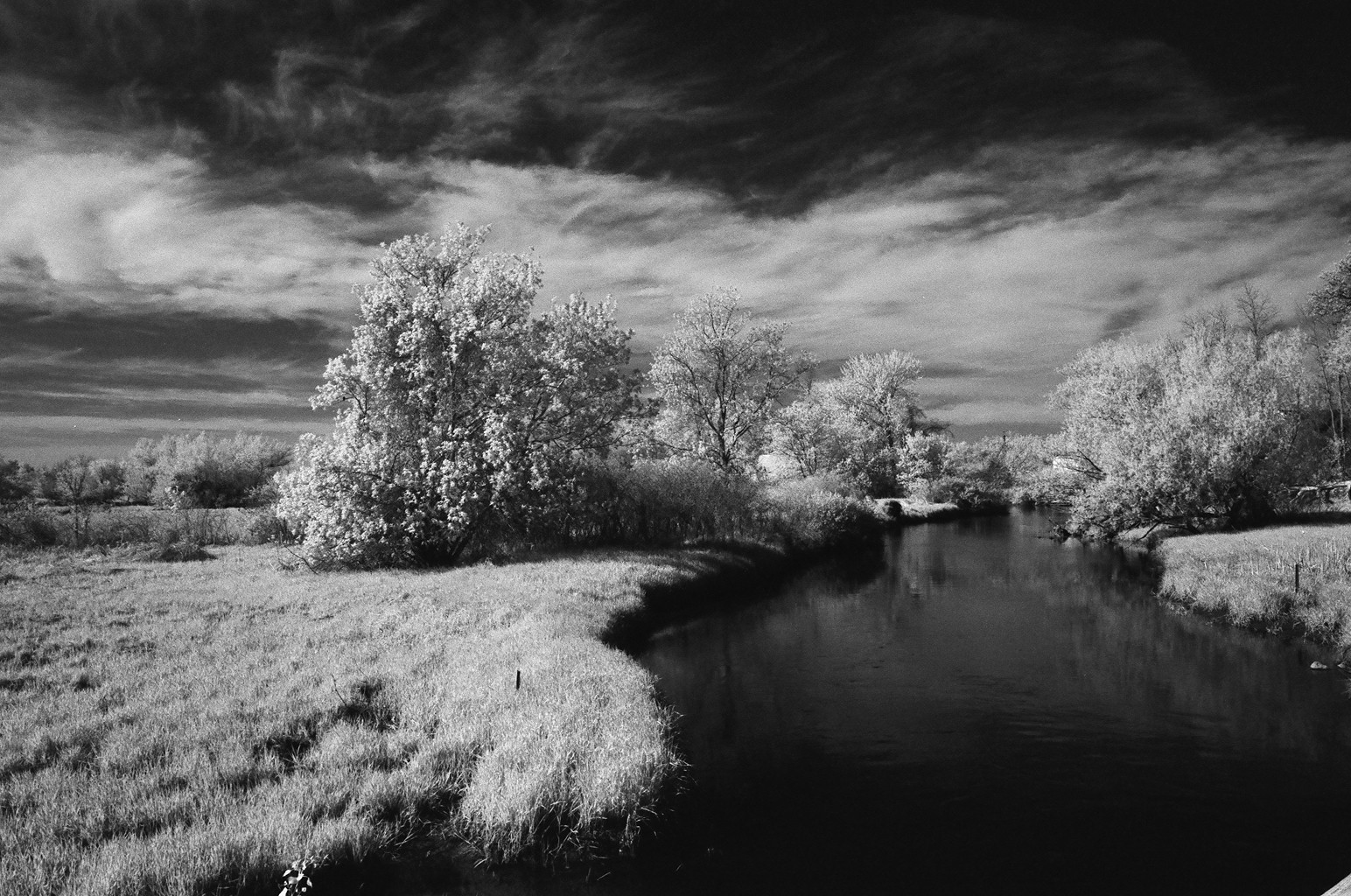 Fast forward 15 years, and I'm back at it. Don't get me wrong – I'll never give up my digital camera! But I've fallen back in love with shooting film. While the mechanics of both film cameras and digital cameras are basically the same, the psychology behind it is different. Digital cameras are so convenient but I tend to shoot too many pictures, thinking that I'll just delete the extras or mistakes. When I shoot film, I enjoy slowing down, really thinking through my composition and exposure and in-camera crop. As a result, it's really helped me do that with digital shooting as well and I've grown as a photographer by learning both mediums.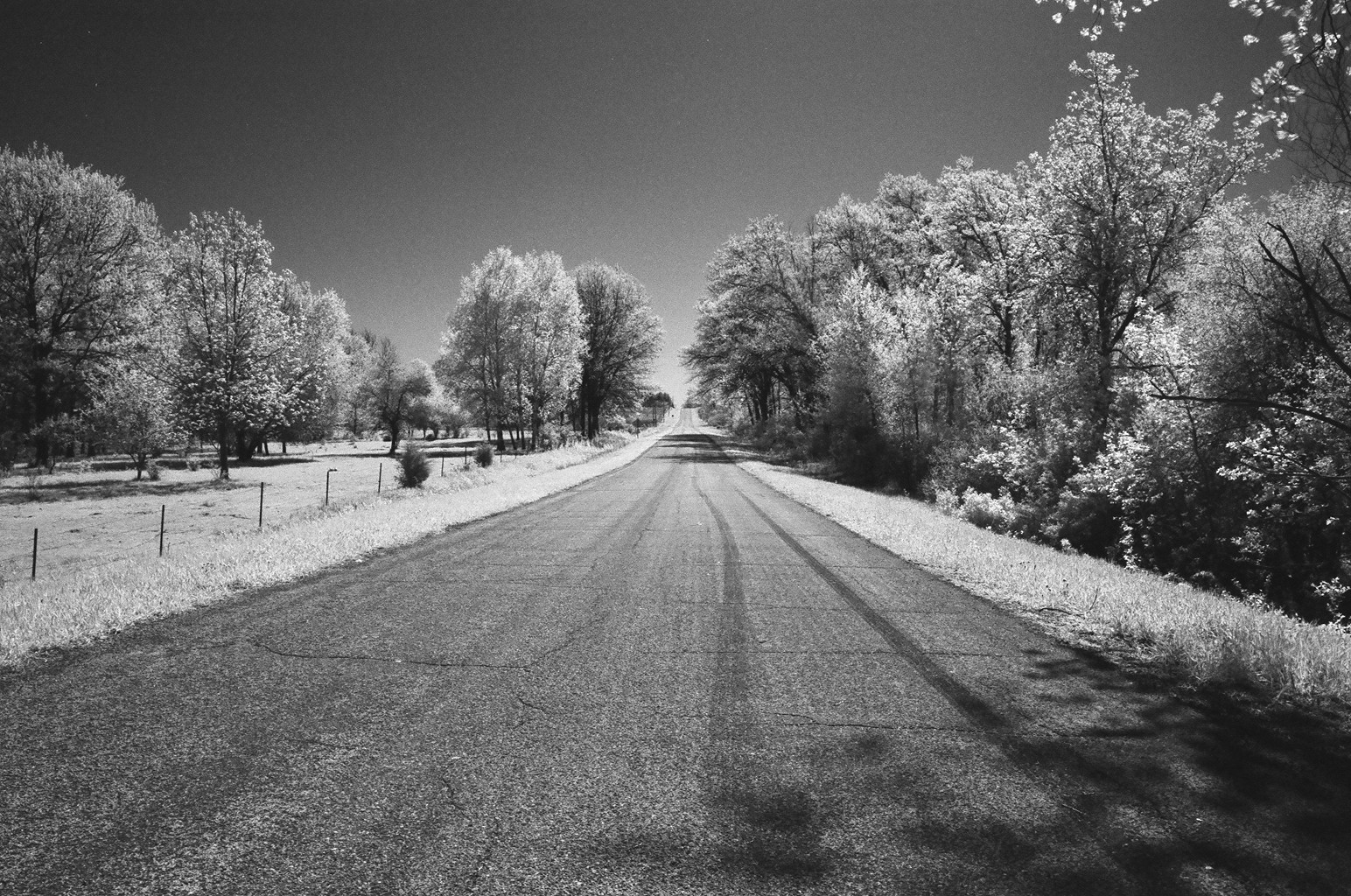 One benefit of using a film camera is trying out different film stocks – different brands, different styles, etc. One "offbeat" film that's rarely used anymore is infrared film. Shooting with IR film gives a very unique look because, by using a combination of infrared film and an infrared lens filter, the visible light waves (under 700nm) are blocked out, rendering the infrared light waves visible (those over 700nm). Because of this, the pictures have different tones and contrast. The most noticeable difference is that green foliage turns out white, as the IR film captures the chlorophyll in the leaves and grasses.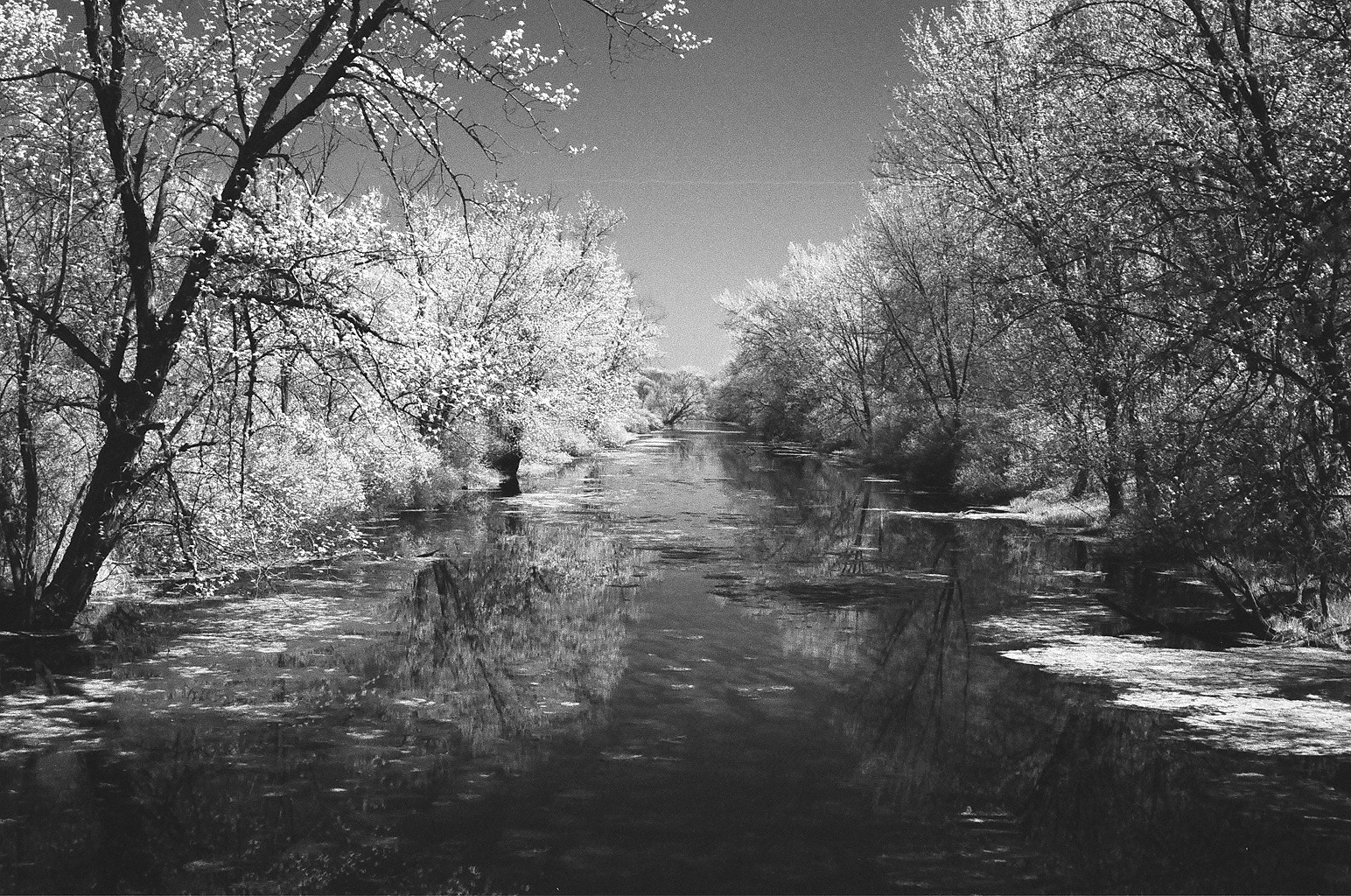 Before I decided to shoot IR film, I did a LOT of reading online. I have tried out two rolls of film and I feel happy with my results. I wanted to post a quick tutorial for anyone else who might be interested in trying their hand at shooting infrared film.
Materials You Will Need to Shoot IR Film
Infrared Film
Infrared lens filter (Hoya R72 or equivalent)
Tripod
Camera with manual focus lens
remote shutter release or cable release (strongly recommended)
The only place I've been able to find infrared film at an affordable price is B&H Photo – $11.99 for two rolls of black and white 35mm film. Other brands that you might find on ebay are Maco 820c, Efke 820, Kodak HIE (B&W) and EIR (color). All these brands have ceased production on infrared film so the roll you find may be expired, or at the very least it will be considered rare and possibly very expensive. Ilford makes a film called SFX200 which is considered near-infrared but not true infrared. Additionally, I used a generic branded infrared lens filter and I feel it gave excellent results for a fraction of the price of a name-brand infrared lens filter.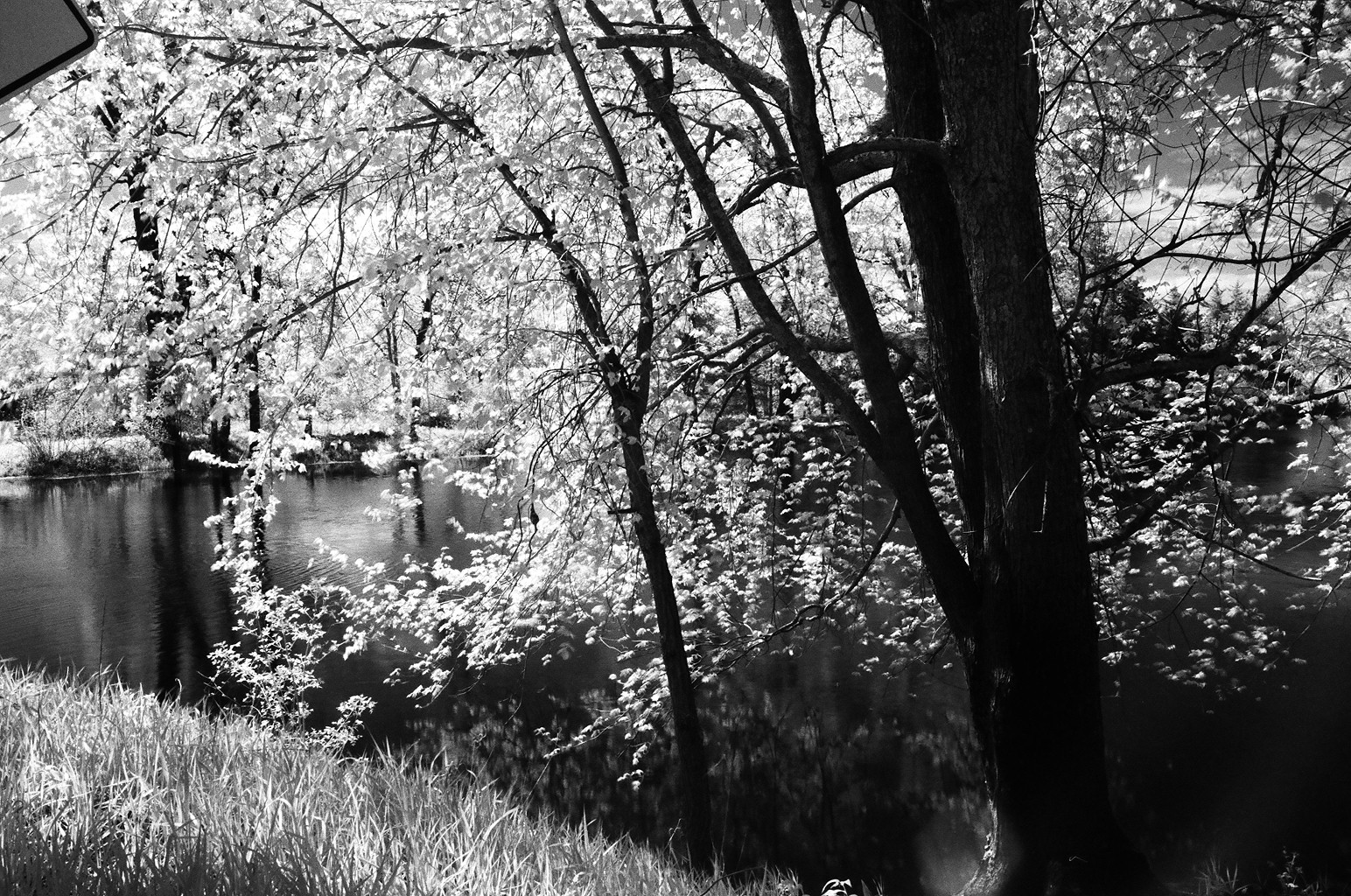 Before you go out and shoot IR film, it's important to plan your day according to the weather. IR film will have the most visibly unique results when you shoot on a day that is sunny and clear, and when the foliage is blooming and growing.
Shooting IR film
1. Load your film into your camera in dark or subdued light. Depending on the IR film stock you choose, you may need to load the film in complete darkness. (In my experience with the Agfa 400S, I just loaded it inside my house away from windows).
2. Set your camera's ISO 4-5 stops below the rated speed on the box. So, for my Agfa 400S, it's a 400 speed film, and moving down 5 stops would be 400 to 200, to 100, to 50, to 25, to 12. So I set my camera's ISO to 12.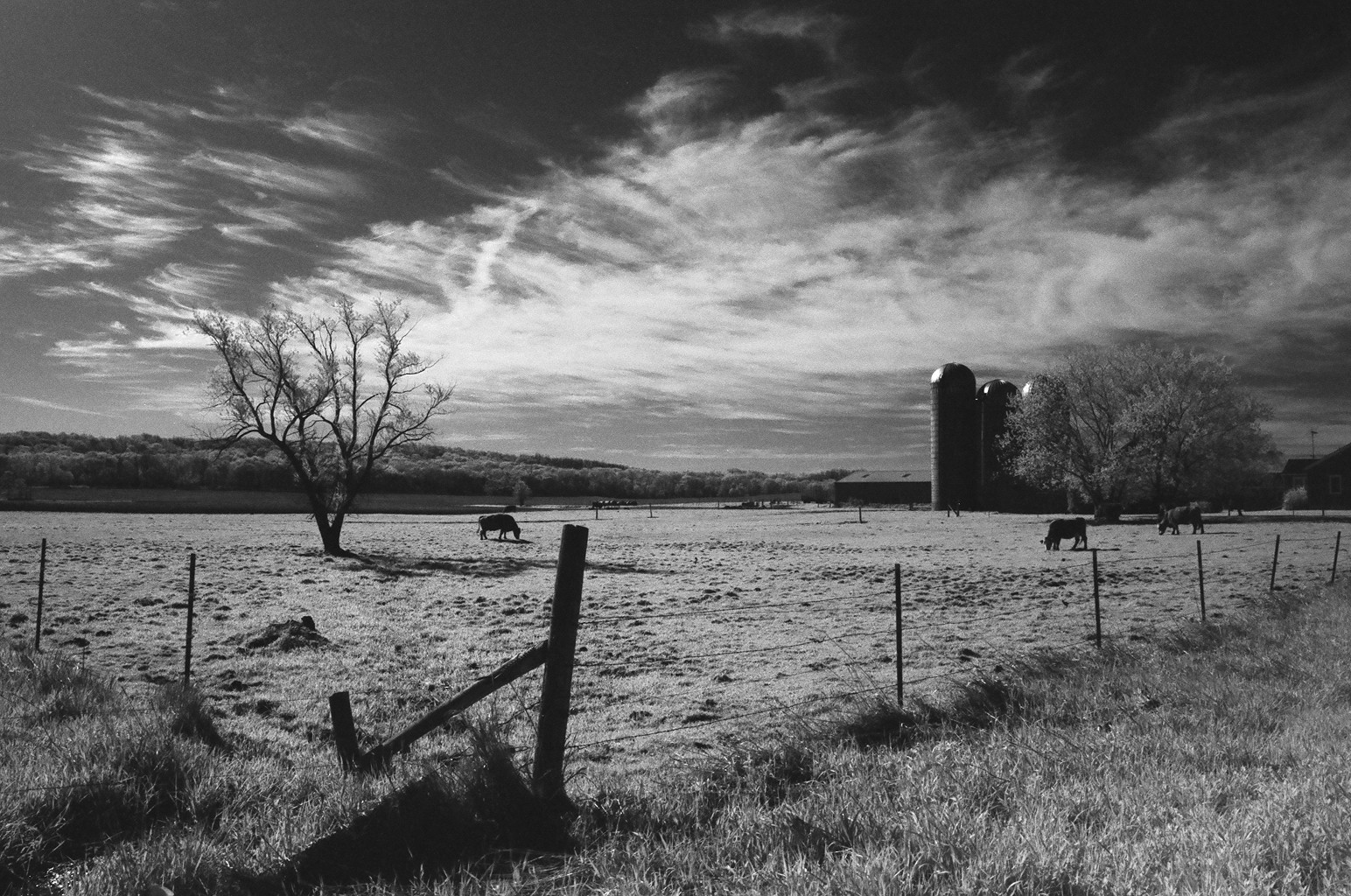 3. Infrared film is great for shooting landscapes. Not so much for portrait work. Because landscapes are the primary use of IR film, it's a good idea to set your camera at the highest aperture available for your lens – possibly 16, 22, or even 32. (If you are planning to expose your film with the Sunny 16 rule, just set your f-stop at 16.) I shot my infrared images using my Canon AE-1 Program 35mm manual focus camera, with either my 50mm f/1.8 lens (max aperture 22) or my 28mm f/2.8 lens (max aperture 16).
4. Find a spot to shoot. Include some trees or plants with budding/growing leaves. Have the sun to your back so that whatever you're shooting isn't in the shade, and the sun is shining on your subject. Shooting into the sun is fine too, but it will create a different effect.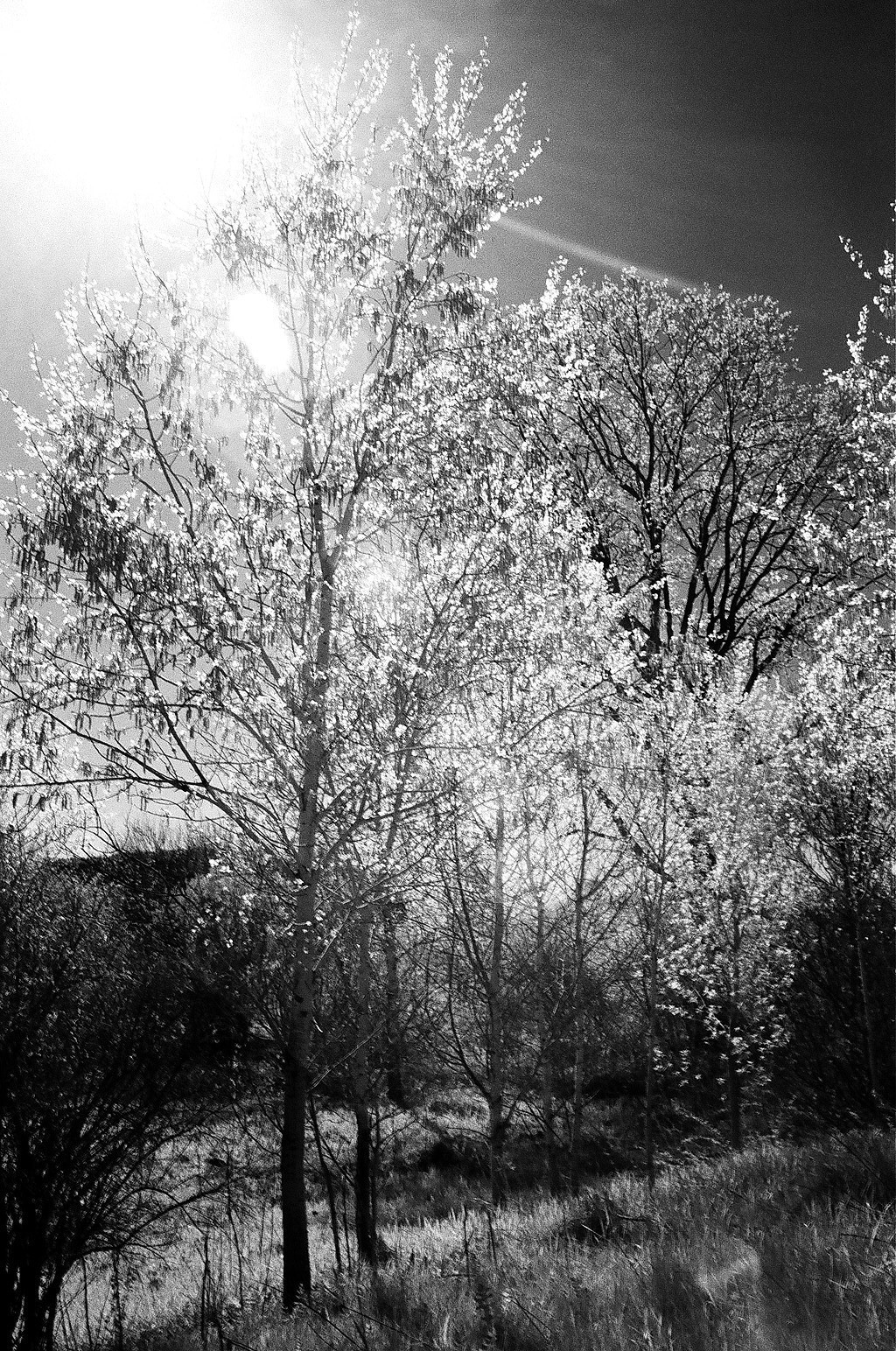 5. Check your exposure so that the aperture you've set on your lens matches the aperture reading when you meter the scene. To set shutter speed, I'm trying to get the camera to recognize the correct shutter speed/aperture combination. So, on my Canon AE-1, I first set the aperture on my lens. Then (with the ISO set to 12) I half-push the shutter button and look inside the viewfinder. What I see is a number, representing the light reading my camera is measuring for the scene. It's trying to tell me what aperture I should set the lens at. If the number displayed matches what I've set my lens at, then I've already got the correct shutter speed selected. If it doesn't match, then I just adjust my shutter speed until the displayed number does match the aperture I've set (half-pressing the shutter button after adjustments to check).
6. Look through your viewfinder and focus on your subject. Infrared light affects focus, so it's best to trust what we cannot see by trusting in the accuracy of our lenses! When you're in focus, look at the lens barrel to notice the distance reading of where you're focused. Then, look on your lens barrel and locate the red mark. It might be a red dot or a red letter R. After you've found focus on your own, you need to move the distance reading (that you just found) and turn the focus element just slightly, so that it lines up with the red mark. Click here for more information about focusing when using infrared film.
7. Put your IR filter up against the lens (or attach it to the lens).
8. use shutter release cord or remote to fire your shutter. Using a tripod and a shutter release helps avoid any camera shake, since the camera settings are typically between 1/2 and 1 second.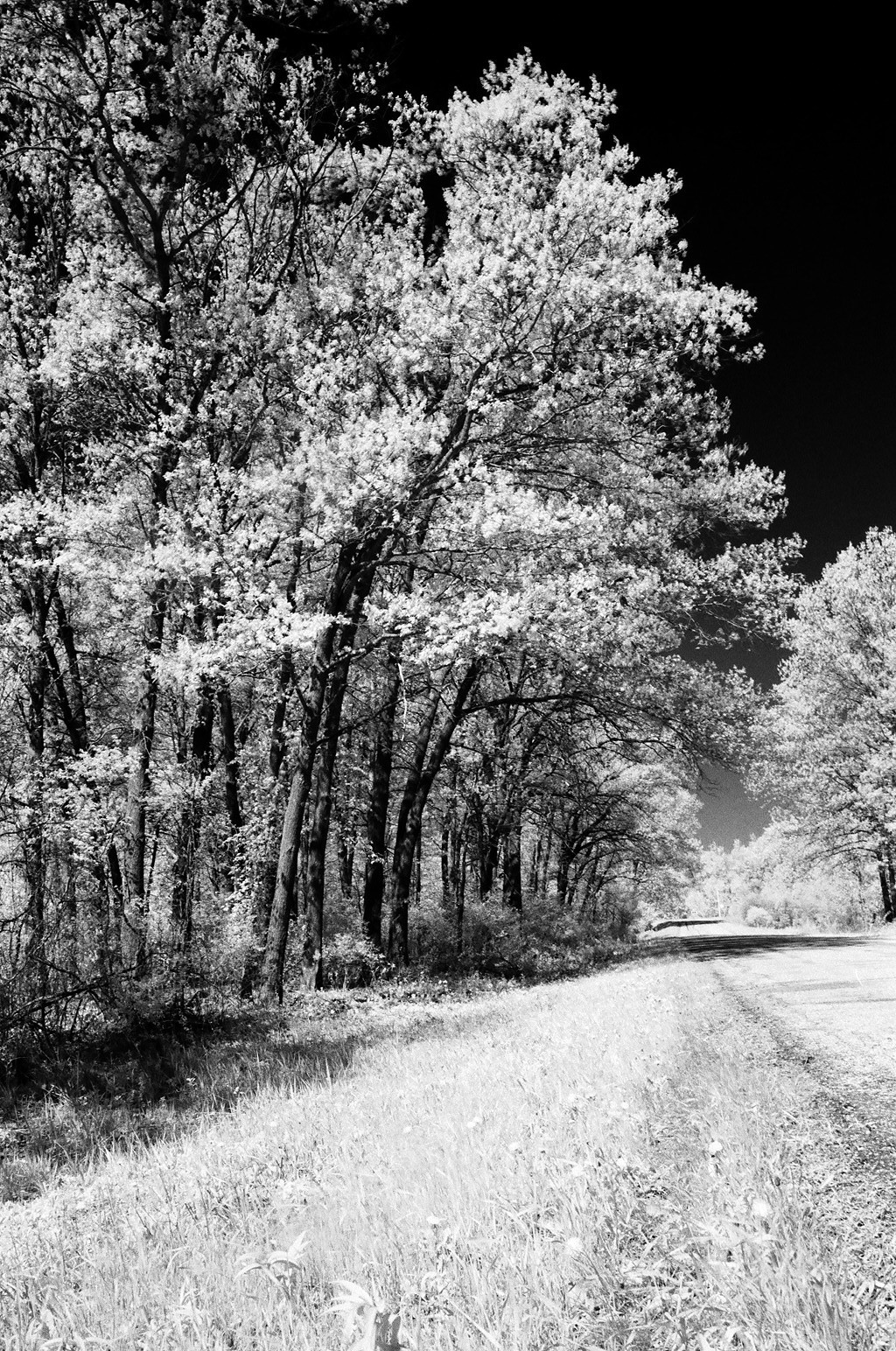 There are a lot of great resources on the internet for shooting infrared film (that's how I learned!) so check out some of these links to learn more. Happy shooting!
Starting Out with Infrared Photography
Shooting with near-infrared film, and how to set my camera settings for IR film