preview your finished products
on your walls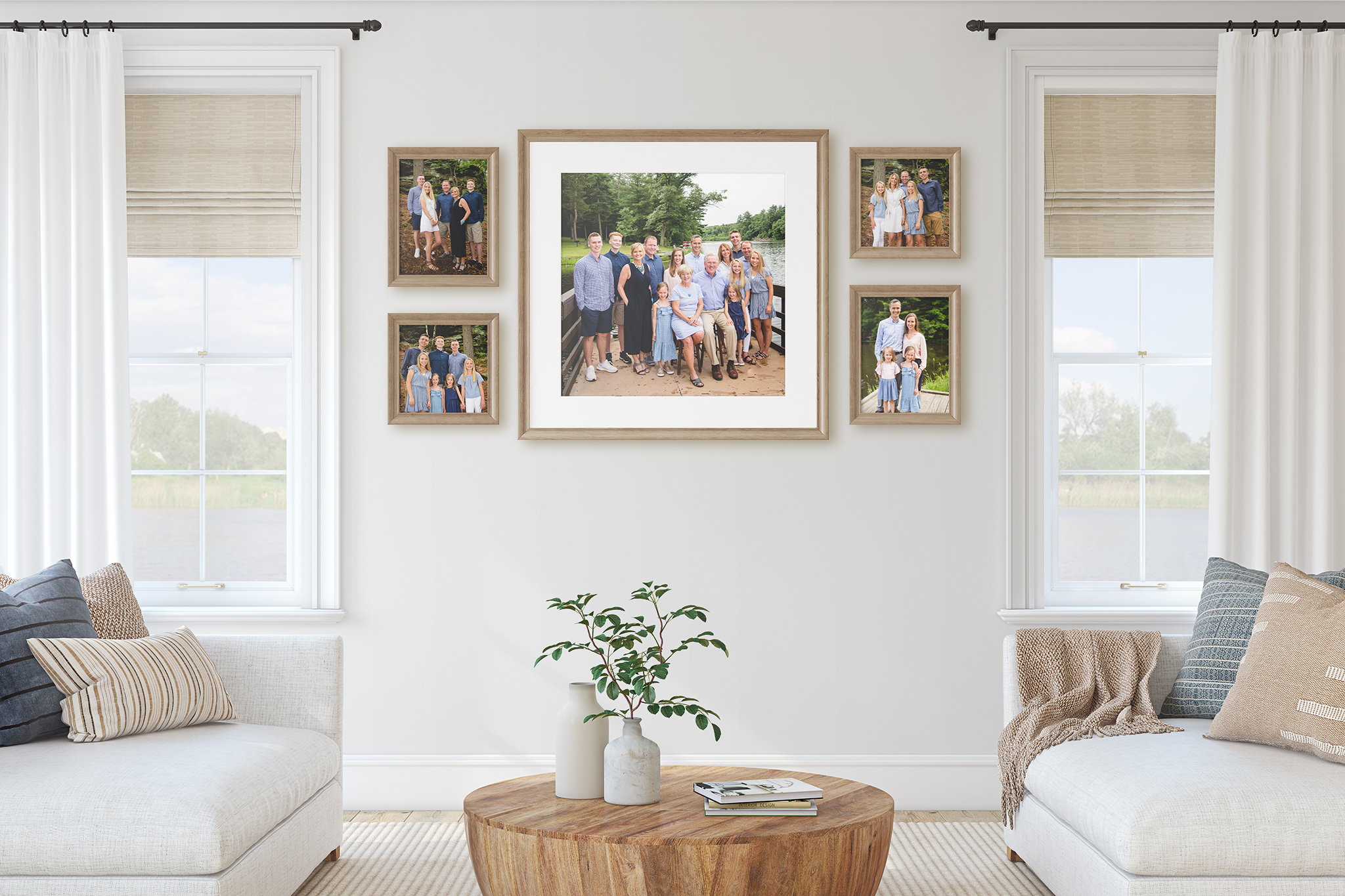 Your wall art is going to be amazing – you already know that. But what you don't know is how it will look once you hang it on the wall. What size will look best in my home? When I frame my wall art, how would it look with a mat? What would a collage of images look like? And so on. 
Like the saying goes…. "I don't know much about art, but I know what I like." I understand – it can be hard to guess, at the beginning of the project, what a finished wall will look like. Whether you're hanging up a single framed image or a collage of smaller images, having an accurate visual depiction helps you get an idea of sizing, arrangement, and number of images that fit best in your display space.  
make your vision a reality
When you booked your portrait session, how did you imagine enjoying your final portraits? Maybe you already know, but in case you don't, that's okay! When I ask my clients this, most of them also feel unsure about what to answer. But I've found that when I ask them to close their eyes and picture going into a warm, inviting home that has family portraits on the wall…. and I ask, "What do you see?" the answer is there even if they didn't realize it initially. 
The Good, the Bad, and the Ugly
I have worked with a wide range of professional labs over the years and I've tried a lot of products. After many orders (and a few trips to the recycling bin) I have narrowed my list to a few trusted sources that offer beautiful products, with archival quality and color accuracy, that I'm proud to sell to my clients. Whatever you are hoping for, we can make it happen. Even if it's a product that I don't currently sell, I will contact my list of trusted vendors and get you exactly the product you want that will make you smile every time you see your portraits hanging on the wall.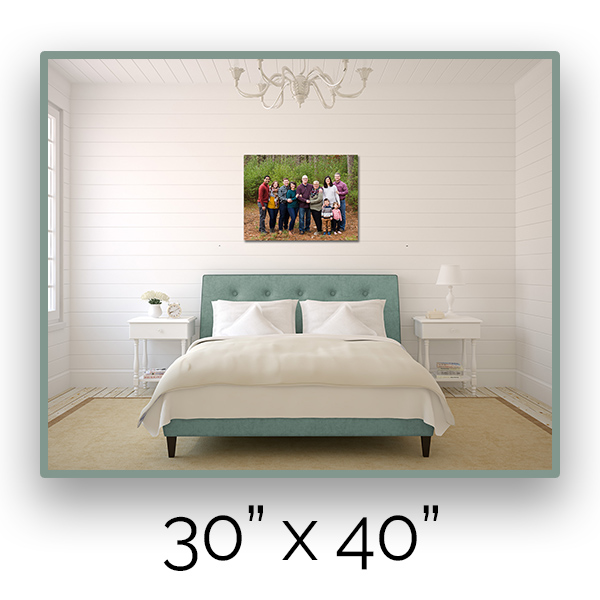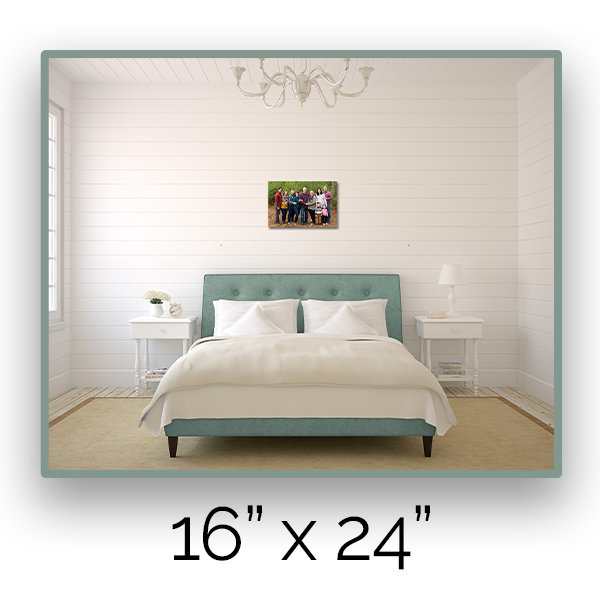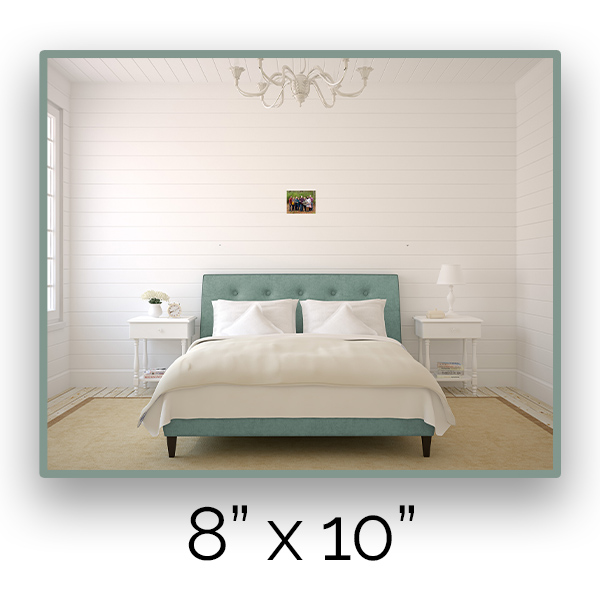 If you have never hung a portrait in your home you might think that an 8×10 is a "big print" and a larger size like 16×24 or 30×40 is overwhelming and way too big. The real answer is this: It depends on the space where you hang it, and how many images you hang, as well as the finished size.
Space: What furniture is in the room? How much wall space exists outside the wall art? What size are the other pieces of art on the wall in the room?
How many images: Will you be hanging a single image? Or do you want to hang a collage of many images? Do you have other decor items that will be hung alongside your portraits?
Finished size: When choosing your portraits, you can choose to have them printed framed, framed and matted, or unframed. Choosing to frame or frame and mat your print will increase the total finished size. For example, a 16×20 image, once framed with a 2″ frame and 1″ mat, will have a finished size of 22×26. An unframed portrait will be the exact size as ordered.  
It's really hard to imagine how your images will look on your wall, so let me make things easier for you! I can show you what your finished images will look like, sized accurately with frames or without.  
Plan Your Wall Art  for Your Walls
four easy steps to decide what size wall art will fit best in your home
Tape a piece of 8.5″x11″ copy paper to your wall. This allows me to set the scale for your wall size so I can accurately show you the size of products displayed in your home.
Make sure your room has good light. Take the room photo during the daytime. Open the blinds & curtains. Natural light is better than lamp or overhead light.
Take a photo of your space. A snap with your phone camera is fine. Make sure to include areas around the display space. Take one wide photo and one tall photo.
Send me your photos! You can e-mail them to me – gw@gretchenwillis.com. I'll use your photos to create display mock-ups with images from your session. 
Muesum-grade canvas stretched on a frame
Mounted for stability, custom framing and matting available
A single piece of wall art with a multi-image collage display
A photo bonded to metal with a glossy coating and modern feel
To view a full list of products – including albums, video slideshow books, and keepsake print boxes – click on the button below.