Senior Photos for Class of 2017 and Class of 2018
It's cold outside but that doesn't mean you can't have your senior pictures taken right now!
Take advantage of this BIG SALE I'm offering right now until March 15.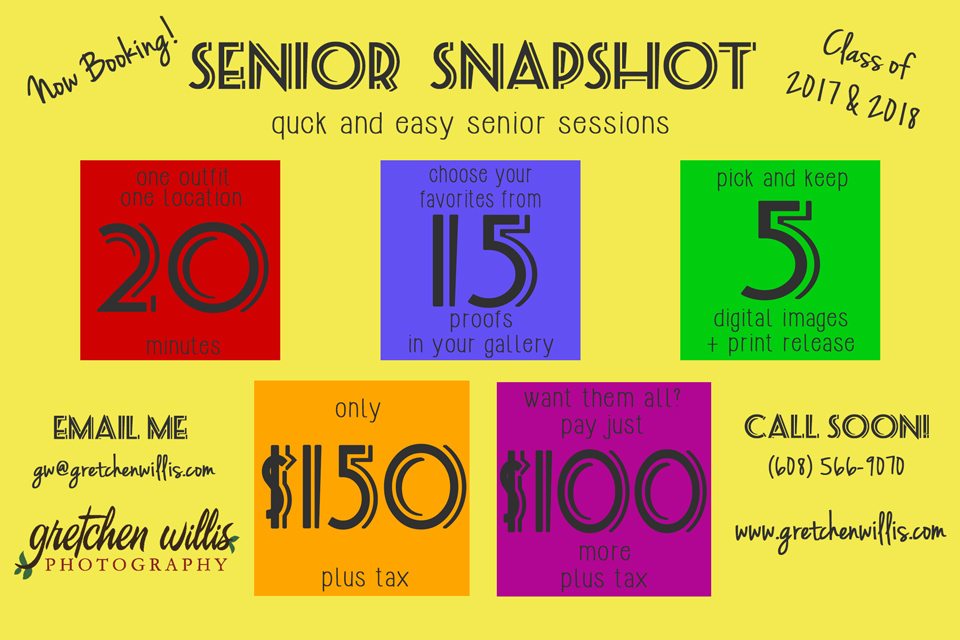 If you haven't gotten your senior pictures taken, it's not too late! You can still get a professional portrait session in time to print off photos for grandmas and grandpas. Contact me here to book your session! For only $150, you can book your Senior Snapshot session with me – it includes 20 minutes of shooting time in your one favorite outfit at one location. After the session, I'll upload a gallery of 15 images and you pick your 5 favorites to keep as digital files with a print release. That means you can print your own photos wherever and whenever you want! If you decide you like them all too much to pick, just pay $100 more and keep them all!

If you're a junior, it's never too early to get this important milestone checked off your to-do list. Make sure you find a senior photographer who can really capture your personality. This shorter session gives you the chance to do that, without a ton of fuss. Call me now at 608-566-9070 or email me at gw@gretchenwillis.com  I am only booking these sessions through March 15, so call now before all the appointments are filled!

Are you thinking you'd like something more? Maybe a longer session with multiple outfit changes and locations? I also offer full portrait sessions for 2+ hours and up to 60 digital images. Check out my pricing page to find out more!

Gretchen Willis is an on-location photographer for families, seniors, weddings & other events, serving Portage, Wisconsin and the surrounding areas, including Westfield, Montello, Oxford, Poynette, Pardeeville, Wisconsin Dells, and Baraboo. Please like the Gretchen Willis Photography facebook page to keep up with all the latest posts. And, if you would like to get free photography tips and save money on photographs, sign up for the Gretchen Willis Photography newsletter (at the bottom right of the page). If you'd like to schedule your session now, call 608-566-9070 or email gw@gretchenwillis.com
Save
Save
Save
Save
Save
Save
Save
Save
Save
Save