What can I get my mom for Mother's Day?
It's the question everyone asks, and for good reason. I mean, your mom is SPECIAL. She deserves a gift that is thoughtful. Unique. And better than the gift your brother's going to get her….
Or maybe you're not buying a gift for your own mom this Mother's day. But I bet you know some other really awesome moms, even if they aren't YOUR mom.
• Your sister, juggling homeschooling and raising her brood and still keeping her house clean
• Your good friend who just had a baby and is still unsure how to handle this whole motherhood thing
• Your grandmother, who always had time to sit and listen to your stories about the short story you're writing, or the goal you made in soccer, or the time you got really embarrassed at school. She never judged you or told you to hurry up because she had to get to the vacuuming.
• Your best friend's mom, who was always a second mom to you as a kid, and kept a special supply of mac-n-cheese in her cupboard just for the times you spent the night
• Your child's daycare provider with more patience than anyone you've ever met
• YOU. It's important to celebrate you, and your bond with your child.
Anyone who cares for a child deserves to be celebrated.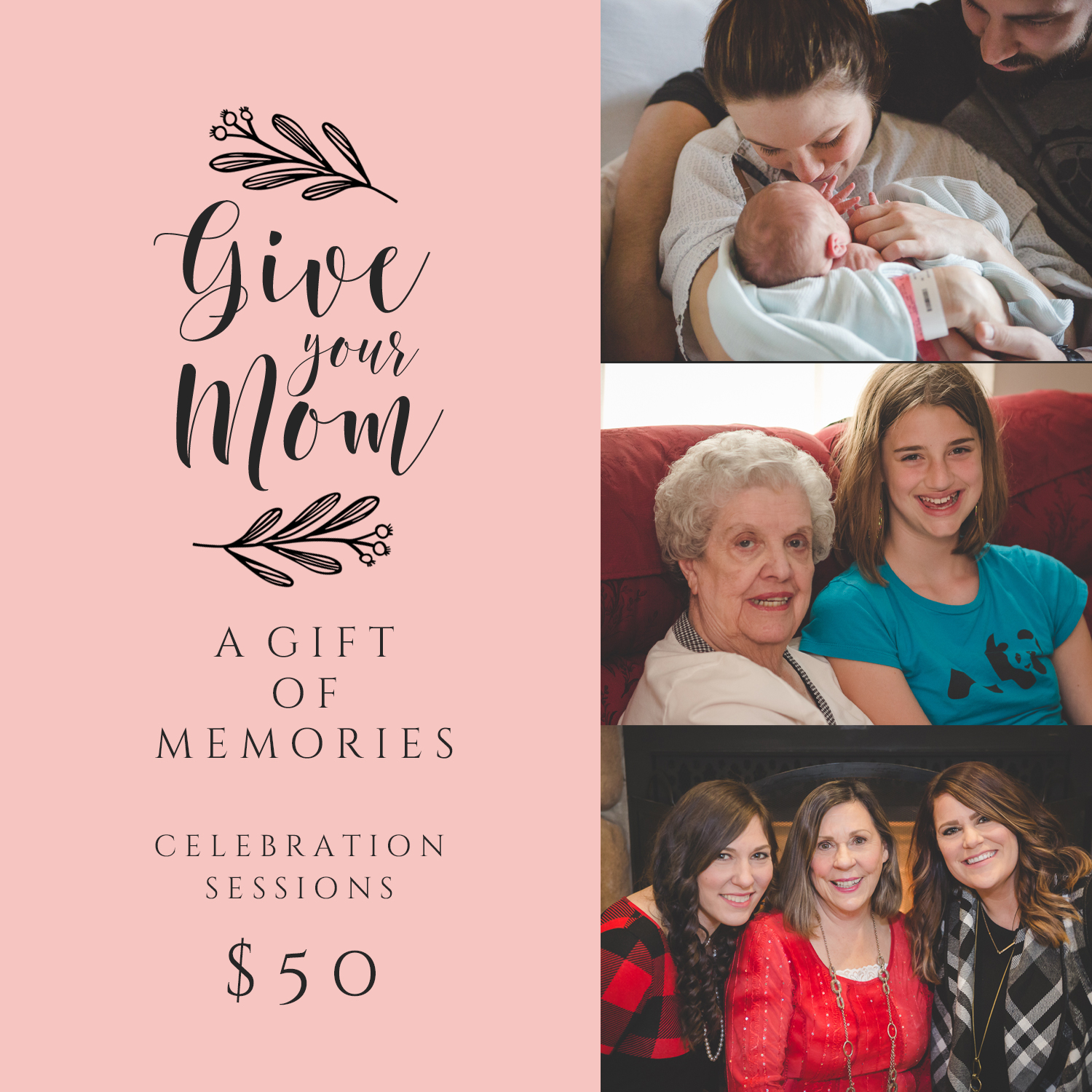 Celebration Sessions – $50
On Mother's Day, give that special person in your life a gift certificate for a Celebration Session! The gift certificate includes:
• one mini-session (20 minutes) to be held June 9, 10, or 24 at an outdoor location TBA
• online viewing gallery of 15+ images
• $25 product credit
Your gift certificate will be presented in decorative packaging, along with a special snack (candy or something healthy). All you have to do is pick out a sentimental card and you're good to go!
To purchase a Celebration Session for someone special,
CLICK ON THIS LINK.